'Reffen' – the new street food market in Copenhagen!
You probably already know this – The street food market on Copenhagen's Paper Island closed down in 2017. What a shame! Paper Island was one of the best food markets and had an absolutely amazing location overlooking the beautiful harbor where you could enjoy street food and beer with friends.
Fortunately, we did not have to be sad for long, as the same people behind Paper Island soon announced their new project 'Reffen'. Reffen is set to open around May this year with the ambition is to create a new novel food space with events, delicious food and cultural activities. The market will open close to the waterfront on Copenhagen's new up-coming urban neighborhood Refshaleøen. You can follow the process and development on their website right here. At Foods of Copenhagen we cannot wait to follow their journey on Refshaleøen – which is fast becoming a playground for creative minds and (street) food enthusiasts.
Last year we started our Culinary Bike Tour visiting restaurants, delicacy shops and hidden gems on Christianshavn and Refshaleøen. With fresh and innovative food places like Noma 2.0, Reffen, Baghaven, Amass, I think especially these two neighborhoods will soon be the places to be, if you want to experience the best Copenhagen has to offer foodwise. It is developing into a foodie paradise and I feel we are so extremely lucky in Copenhagen to have all this!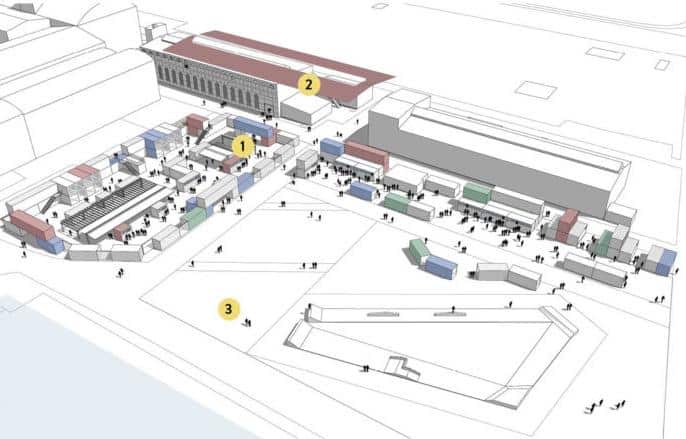 Torvehallerne – 'Old' but still amazing!
Another food market that is not to be missed is Torvehallerne.  For a foodie with a love for local and artisenal products, it never gets boring to stroll around in Torvehallerne to get inspired. 
A food market tells so much about a city and that is the reason we feel it is important to make a stop in Torvehallerne on our Copenhagen Delicacy Tour. Although it would be easily possible to create a tour-de-Torvehallene, we feel it would be a shame not to experience a larger variety of Copenhagen's food gems. 
Some of my Torvehallerne favorites are: Coffee Collective, Grannys House, Ostetovet (small producers of cheese), Grød & Tante T – not to forget the amazing vegetable-, fruit- and flowers stands outside.
Tivoli Food Hall & Tivoli Corner – Food hall, rooftop & pool!
14 years of planning and in November 2017, Tivoli Food Hall finally opened with big ambitions.
I really like the atmosphere in here and it is so 'hyggeligt' with the view of the Tivoli Garden (you can visit the food hall without paying entrance to the garden) that you almost forget you are in the middle of the city. Compared to Torvehallerne, Tivoli Food Hall offers a more commecial range of food stalls with many chains and a lot of the places from Torvehallerne recur, but I'm really pleased to see places as Brødflov, Bobbabella & The Bird & Kissmeyer.
As part of the Tivoli Corner expansion, the award-winning Nimb Hotel is adding 21 luxurious rooms with balconies overlooking Tivoli Gardens to the property. In addition, Nimb Hotel guests will also benefit from a spectacular new rooftop terrace, restaurant and recreational area with Copenhagen's first outdoor heated pool.
So maybe staying at Nimb on your next visit? :)…
Hope to see you in Copenhagen <3
A food hall is typically a section within a another but can operate independently in a separate building. It's not a food court but rather a collaborative of local artisan restaurants, butcher shops and other food-oriented boutiques under one roof. (read a bit more on wikipedia)
Compared to food halls, food markets are simply larger and more varied (at least in most cases).
Yes. "Torvehallerne" are extremely close to Nørreport Metro Station and therefore also very easy to reach from other parts of central Copenhagen. 
"Tivoli Food Hall" is very close to the Copenhagen Central Station (where Tivoli is also located).
You can easily reach both if you take the metro or train from Copenhagen Airport (just keep in mind that the metro at the central station hasn't opened yet but is scheduled to open in 2019).
Would you rather schedule a guided tour to the food markets to give you the best possible experience? We create unforgettable food experiences on request, tailored to your needs.