3-DAY NORDIC GASTRO TRAVEL
Copenhagen & The Faroe Islands - The most extraordinary Nordic food tour of all time!
Dine in private at Noma and fly to the Faroe Islands to eat at the 2-star Michelin Restaurant Koks. From July 30 – August 1st, 2019.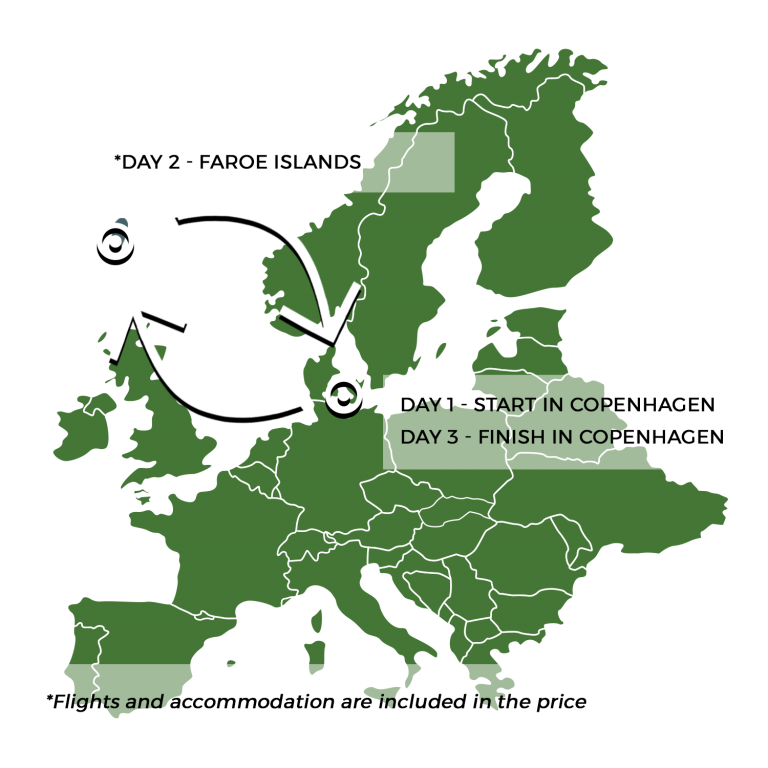 Explore the trendy food scene in Copenhagen and the undiscovered nature and tastes of the Faroe Islands on our 3-day gastro tour.  
Guests have the unique opportunity to experience the Nordic cuisine from its cradle in urban Copenhagen to its frontiers in the remote and wild Faroe Islands. You will taste amazing flavors, eat with locals and mind-liked people, explore the wild nature and visit the pioneer restaurants Noma and KOKS.
Why has Copenhagen become a world known food destination?
Our adventure kicks off the first day by exploring Copenhagen's local food scene on a 4-hour culinary tour through the alleyways of different neighborhoods. We will take you to local gems, passionate people and restaurants to taste amazing food. This tour will be about 'localhood' and how the New Nordic cuisine has influenced Copenhagen's food scenery the last 15 years. 
NOMA "Nordisk," meaning "Nordic," and "mad," the Danish word for food.
In the evening we will dine at the legendary Restaurant Noma that was rewarded with two Michelin stars this year. With the new location and restaurant Rene Redzepi and his team have once again revolutionized the world of fine dining. Noma 2.0 proves the persistent relevance of the new Nordic cuisine with a strong focus on microclimates, fermentation and seasonality. We will enjoy the vegetable season in Noma's private dining room and share a unique moment of culinary highlights. 
For itinerary & questions: 
E-mail: info@foodsofcopenhagen.com
Phone: + 45 2016 1519
Booking can be done by e-mail to info@foodsofcopenhagen.com or by using the link below to our friends at RSVP. 
Astonishing landscapes, culinary adventures and incredible wildlife on The Faroe Islands
On the second day we leave Copenhagen and continue our culinary treasure hunt to the beautiful and undiscovered Faroe Islands. Though small in size, the Faroe Islands is truly a mighty contender for adventurous and curious travelers looking for extraordinary and unique experiences.
Our local host Solfinn Danielsen will satisfy our curiosity with his warm, welcoming personality and guide us expertly through highlights of the island. Solfinn is originally from the Faroe Islands, where his family still live, but came to Copenhagen to become a chef and sommelier. Solfinn is the owner of the well-known boutique and bar 'Rødder & Vin' in Copenhagen and has a big passion for natural and handcrafted products. He will share his knowledge and secrets about the Faroe Islands only a local can have when he takes us to his favorite places to explore breathtaking nature and local delicacies. We will end the evening with a traditional dinner ("Heima") focusing on the Faroe tastes and preparation methods.
KOKS; the world's most remote foodie destination.
On our last day we continue the morning by exploring the beauty of the island before we end our travels with a private lunch at the 2-star Michelin restaurant KOKS. Focusing on innovative traditional Faroese food Poul Andrias and his team will take us on a sensory adventure in their new location, showcasing the islands unique combination of ancient techniques and locally foraged, farmed and fermented ingredients. All reflecting the taste and smell of the Faroese landscape we have been exploring.
We end our adventure by one last breathtaking stop before we fly back early evening.
After this trip you will have experienced new and amazing flavors at 2 pioneer restaurants, eaten traditional food, met locals and other like-minded people while discovered impressive, beautiful and dramatic nature. 
Price:

26.000 DKK / 3500 EUR / 4000 USD per guest
Limited availability.
The price includes:
Tasting menu & wine/juice menu at NOMA (private dining room)
Tasting menu & wine menu/juice menu at KOKS (private lunch)
A customized 4-hour culinary tour in Copenhagen (incl. lunch & beverages)
Roundtrip flights Copenhagen/Faroe Islands (incl. 23 kg luggage + hand baggage)
Hotel on the Faroe (standard room at hotel Føroyar)
Bus transportation on the Faroe Islands 
Lunch, Sweets, coffee & dinner at the Faroe Islands 
Private local hosts during the whole trip

What is not included?
Hotel in Copenhagen and flight ticket to Copenhagen. 
We will be happy to recommend and help with booking of hotel in Copenhagen.  
For itinerary & questions:
Mail: info@foodsofcopenhagen.com
        Phone: + 45 2016 1519
Payment & booking policy:
Final booking is made by paying deposit of 50%. The last payment must be made no later than on July 1st, 2019. Both payments are non-refundable.
Payments are made in Danish kroner and can be made online (online administration fee 5%) or with bank transfer).

Booking
Booking can be done by e-mail to info@foodsofcopenhagen.com or by using the link below to our friends RSVP.